Active Tourism® is a special way to spend your vacations. It is a new travelling philosophy that combines adventure, nature and culture. Active tourism is low-impact, ecological, exciting and high-quality.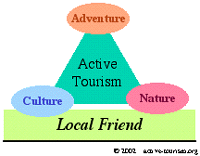 We are convinced that the best way to visit a land is to travel with a local friend that shows you all the beautiful and interesting attractions. Somebody that explains you about local costumes and traditions, about history, art and culture. Somebody that takes you to eat tipical food, shows you where to shop and takes you around. A friend that takes you into adventure and shows you the action. This is the most authentic way to visit any country, but especially our wonderful land, México. If you have such a friend in México, never hesitate to call him. If not, you can come to us, we provide touristic services following this idea.
Visit México with a local friend!
Our mission is to be the best substitute for such a friend and to enable you to know our beautiful city and country. We offer tours parting from the conviction that tourism will benefice both the tourist as well as the visited land. We are fully comitted to high-quality following the philosophy of Active Tourism.
An active vacation is an investment not an expense.